National Center of Excellence for Vein Disorders
What is EVLT, EVLA and VenaCure EVLT Never Touch ?
EVLT Never Touch is the new gold standard .... The BEST Vein Care available at the VeinTreatment Center !
It should be said that at the Vein Treatment Center we use only the best EVLT technology and it happens to be the EVLT Never Touch system. We have performed EVLT procedures since 2007 aand have performed over 15,000 combined EVLT and VNUS Closure procedures ! We have also adopted the EVLT Never Touch technology in our practice since 2009. Most vein practices have one VNUS Closure 'generator' or one EVLT 'laser device'. We have 4 of each and continue to expand our patient base with referrals from adjoining states, Canada and other countires. We have had patients from every state (except Alaska) come to our center since its inception. We have certificates and plaques in our office (from 2011) documenting 13,000 cases of EVLT from Angiodynamics, which has developed the most advanced and safe EVLT laser system to treat venous insufficiency.
Traditional EVLT fibers (EVLT, EVLA, ELVeS) are excellent with ablating saphenous veins. However, the VenaCure EVLT Never Touch system is superb and has great obliteration (success) rates and is associated with minimal discomfort and bruising to the patient. Some centers choose not to use the best technology for their patients. We remain the premier vein center in our area and in the U.S. because we provide THE BEST technology to our patients such as the EVLT Never Touch system. The EVLT Never Touch system is more expensive to use and this cost is NOT translated to you or to your insurance carrier. EVLT Never Touch laser fibers cost at least 4 times as much as 'bare EVLT' fibers which some surgeons around the country use over and over again. You will see Dr. Karamanoukian use the EVLT Never Touch catheter system and open it in front of you as you watch the procedure. He will show you the "gold jacket" tip of the catheter and explain to you the advantages and disadvantages once again, as he has done so during your consultation. He will go over with you again, during the procedure why the "gold jacket" tip of the EVLT Never Touch catheter is superior over "bare or naked" EVLT catheter products.
Canadian health care systems and phlebologists (vein specialists) are notorious for using re-usable EVLT fiber systems to cut down costs. Canadian patients recognize this and come to our facility to get the best procedures with the best available laser system. Published studies have shown that reusable fibers lose their ability to deliver laser energy with each use. We therefore use SINGLE USE fibers, namely the VenaCure EVLT Never Touch system, with better than 99% effective success rates at follow-up.
The Best Vein Care technology is available to you at the Vein Treatment Center !
Animation of the VenaCure EVLT Never Procedure by www.VeinsVeinsVeins.com
When you ask to have an EVLT procedure elsewhere, ask for the EVLT Never Touch catheter. Do not accept reuseable EVLT catheters or outdated EVLT catheter systems. It has been shown, in studies, that reuseable EVLT catheter systems do not reproducibly deliver laser energy with continud use or reuse. They are meant to be single use and disposable for a reason !
Choose Board Certified Phlebologists for your vein care and you will get reproducible results and the use of The Best vein technology and expertise by compassionate and trained professionals. The Vein Treatment Center has 2 of the 3 Board Certified Phlebologists in the region as of this writing - Dr Hratch Karamanoukian and Dr. Raffy Karamanoukian. Dr Raffy Karamanoukian (brother) has been featured 4 times on the Doctors TV show for his expertise. Dr. Raffy Karamanoukian practices with Dr Hratch Karamanoukian in Buffalo, NY and both brothers work in the Santa Monica offices together at the Santa Monica Vein Center, a National Center of Excellence for Vein Disorders.
Venous Insufficiency - Vein Stripping or EVLT Never Touch ?
Venous insufficiency is a serious medical problem that is usually progressive if left untreated. When reflux of blood in the venous system occurs in the saphenofemoral junction (venous reflux), treatment options were limited, UNTIL NOW!
Traditionally, superficial venous reflux at the saphenofemoral junction (in the groin) was treated surgically by ligation (tying) and division of the saphenous vein trunk and all proximal tributaries followed by stripping of the great saphenous vein (vein stripping). This combined procedure was referred to as "ligation and stripping". Look at the large incision below and this procedure which has prevented countless hundreds of thousands of patients from seeking vein stripping !
stripping' taken from venacure-evlt.com on July 19, 2010
Proximal ligation requires a small (sometimes large) incision at the groin crease. Stripping of the vein may require additional incisions in the thigh, at the knee or below the knee and ankle. Historically, it is associated with a high incidence of morbidity. Today, patients stay in the hospital for at least 8 hours and get discharged with bandages from ankle to groin. Typical return to work is one to 4 weeks. When the operation was conceived some 40 years ago, patients stayed in the hospital for days and some died from pulmonary embolism because they were immobile and limited to bed rest. Although modern surgical techniques have made ligation and stripping procedures less invasive, it is still an operation that causes significant discomfort and precludes patients from returning to their daily routine.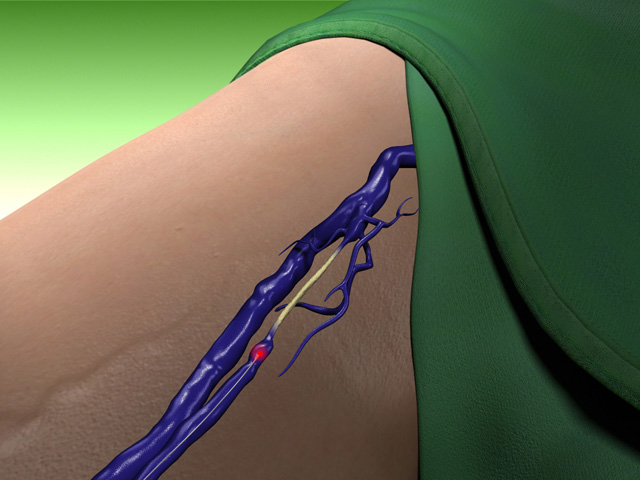 Ablation of the vein by EVLT is much less invasive than surgery and has a much lower complication rate. Newer in the sense that it has replaced "vein stripping" and has been FDA approved in the United States.
Animation of the VenaCure EVLT Never Touch Procedure by www.VeinsVeinsVeins.com
The procedure is well tolerated by patients and produces good cosmetic results. Great clinical results have been shown by more than a dozen reseach groups at short and long term follow-up as well as several prospective studies comparing this technology against VNUS Closure.
Although other surgeons were quick to adopt this second generation FAST catheter, Dr. Karamanoukian waited for the clinical results to be published in the scientific literature before adopting it and using it in his patients. Having published over 140 scientific articles, Dr. Karamanoukian believes that adopting new technology should await hard proven scientific data. However, Dr. karamanoukian is the first surgeon in the world to perform bilateral VNUS Closure procedures AND bilateral EVLT at the same office setting! This may be very helpful in reducing the number of trips to the Vein Treatment Center and allowing the patient to resume all activities as soon as possible, typically returning to work the same afternoon and certainly by next morning!
To read more about the treatment options for venous reflux disease and the endovenous laser therapy procedure, request a copy of Dr. Karamanoukian's book:
Venous Reflux Disease and Endovenous Laser Therapy (Hratch L Karamanoukian, MD and Raffy L Karamanoukian, MD)
What is the difference between VNUS Closure and EVLT Never Touch?
VNUS Closure uses radiofrequency energy to close the great saphenous or lesser (short) saphenous vein endoluminally, that is, from within the vein. Instead of stripping the vein, access is gained into the great saphenous vein through a puncture wound and a catheter is passed into the vein and advanced towards the groin. As the catheter is pulled back and out of the body, radiofrequency energy is used and the vein is "Closed" or sealed from within.
The VenaCure EVLT Never Touch procedure, also known as endovenous laser therapy is a trademarked procedure (formerly Diomed Holdings) which utilizes laser energy to do the same thing as the VNUS Closure catheter.
Request a pdf copy of Dr. Karamanoukian's book about venous insufficiency by email - free copy only available to existing patients. Others can obtain a copy through Kindle books or Nook books.
I only utilize the VenaCure EVLT Never Touch system in our offices. The procedure costs the same to the patient. However, the catheter costs more to the surgeon/physician who purchases the device. It has significant advantages to patients in terms of less pain, discomfort postoperatively and less brusiing. Choose and ask for EVLT Never Touch when you seek endovenous laser ablation procedures !


EVLT Study presented by Dr. Karamanoukian
Dr. Hratch Karamanoukian and Dr. Raffy Karamanoukian recently presented a very unique contribution they have made to the EVLT procedure at the 2008 American College of Phlebology meeting. At the meeting, held in Marco Island, Florida, Dr. Karamanoukian presented his clinical findings for simultaneous bilateral EVLT ablation for patients who have venous reflux disease on the right and left sides.

This is the first report in the literature - a technique that was developed by Dr. Karamanoukian and which has been the standard of care in our Vein Treatment Center in Williamsville, NY and Vein Treatment Center in Santa Monica, CA.
Instead of bringing patients in twice to do the procedures, namely once for the right side and once for the left side, both sides are done simultaneously and patients are able to return to work the following day. Both doctors perform the VNUS Closure procedure and EVLT procedure simultaneously in patients with bilateral saphenofemoral venous reflux disease.
*EVLT = Endovenous Laser Therapy - technique used to obliterate the saphenous veins using laser energy.
What lasers are used to treat venous reflux disease? ELVes, EVLT and Cool Touch CTEV - EVLT Never Touch

The EVLT procedure uses a 810 nm Diode laser to ablate the great or lesser saphenous veins and to treat venous reflux disease. The ElVeS system used a 1470 nm radial laser device and accomplishes the same goal in obliterating the saphenous veins. Cool Touch uses the CTEV™ 1320 nm Nd:YAG Endovenous Laser to obliterate the great or lesser saphenous veins. EVLT Never Touch uses a proprietary gold tip "jacket" that disperses energy in a way that effectively closes or ablates the saphenous vein with minimal peripheral tissue injury ! As a result, there is less pain, bruising and discomfort over traditional EVLT and EVLA ! Choose this technology and not the alternative EVLT or EVLA technology when you choose to have endovenous laser ablation procedure. Physicians such as myself who have done thousands of these procedures can tell you why this is so .... Because experience counts !
Read about venous insufficiency on WebMD and also talk to your doctor about getting treated for venous insufficiency BEFORE you develop trophic changes in the skin - the bronzing of the skin, the pigmentation in the lower legs near the ankles, thickening of the skin and the leatheriness of the skin (lipodermatosclerosis). The end result of untreaeted venous insufficiency is the development of venous stasis ulceration. The advanced skin changes resulting from longstanding venous insufficiency are referred to as the C4, C5 and C6 changes. CEAP classification C6 is venous stasis ulceration. CEAP Classification C5 is the healed venous stasis ulcer. CEAP classification C4b is lipodermatosclerosis. You can see images of these when you click on the section called 'Common Vein Problems'.
Patients with a family history of venous insufficiency and varicose veins can get on a preventative regimen to reduce the likelihood of developing spider veins, varicose veins or venous insufficiency. To read more about preventing venous disease and taking steps to have healthy leg veins, read Dr. Karamanoukian's book : Guide to Horse Chestnut Extract - Treating Venous Reflux Disease and Varicose Veins (Hratch L Karamanoukian, MD and Raffy L Karamanoukian, MD).
Dr. Karamanoukian's established patients can request free pdf copy of this book by email.
For more information about varicose veins, spider veins, venous reflux and treatment options such as the closure procedure or guided sclero, contact Dr. Karamanoukian at the Vein Treatment Center, a National Center of Excellence for Vein Disorders by email or by phone at (716) 839-3638.